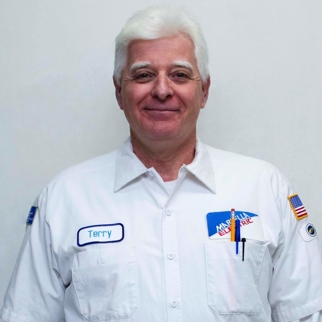 Terry Leddy - Master Electrician & Lighting Designer
With 25 years in the Lighting Design Business and 42 years as an electrician Terry Leddy has developed a reputation as the "Go to Lighting Guy". Not only is he an artist as far as his ability to design and his ability to "fish" but he is also an accomplished artist with paint and canvas being his mediums.
Terry's vast experience includes both commercial and residential. Professionally, it has taken him to places such as:
Consulting at the Philadelphia Art Museum
Lighting design at The Avery Art Gallery
The Moore College of Art
Lighting design of various 3-5 Star Philadelphia Restaurants
A number of Main Line hair salons and jewelry stores
The lighting design of a Lexus Dealership in Turnersville, NJ.
A number of Philadelphia Churches
Terry specializes in Monorail Lighting System and is very proud and honored to have done the lighting to highlight one of the original James Bond 007 car in a private residence. He is also know in the lighting industry for his talent with Radio Ra Systems, cleaning/installing/assembling/redesigning of crystal chandeliers. He is known for his recessed light designs, specializing in the use of LED lamps. He is excited about creating the blueprints and designs of your patio and BBQ areas as well as night-scaping of trees and walkways. Terry also enjoys having the opportunity to highlight your art work, whether it is something you created yourself or an investment piece. One of Terry's proudest professional moments was when he was fortunate enough to be given the opportunity to not only do the recessed lighting to accent a Monet and a Chagall but he also was able to hold the Masterpieces in his hands.
Now, Terry did not come to all of this knowledge on his own. He has attended a Lutron Dimmer and Radio Ra course and also took credited classes for Fiber optic Lighting. Through his time in the business he has also learned about the effect that lighting can have on one's health especially for those suffering from Macular Degeneration and he is very proud that his designs have helped people to see more clearly.
Terry is also very proud to have worked with and his association with Mr. Lee Waldron, the renowned lighting design specialist.
Mark Connor - Master Electrician
As a Master Electrician for over 25 years I am excited to have recently become a member of the Martella Electric Company Family. I feel blessed to have found a company that shares my commitment to personal and professional growth through knowledge and experience. I pride myself in having a strong commitment to my profession, the people and homes I serve, my family and my faith.
As a very involved father of four children my free time is limited but when time permits I enjoy a number of outdoor activities, muscle cars and I am a proud member of the Knights of Columbus.
Need Service?
We'll Be There Right on Time!
Contact Your On-Time Electricians for Service Today
The Most Prompt Electricians in Town
Backed by Over 60 Years of Experience
We're Looking Out For Our Customers
Your Safety, Comfort & Security Are Our Priority
Fully licensed, certified, and highly-trained electricians

Pricing options are provided upfront.

3-year warranties are provided for labor and materials.

Your satisfaction is 100% guaranteed—or you get your money back!

We provide 24/7 live customer support year-round.

We have served the Delaware County community for over 60 years.
Your Electrical Needs
Are Our Expertise.

Martella Electric Company provides upfront pricing before we get the job done. Request an appointment from our fast and reliable team today.